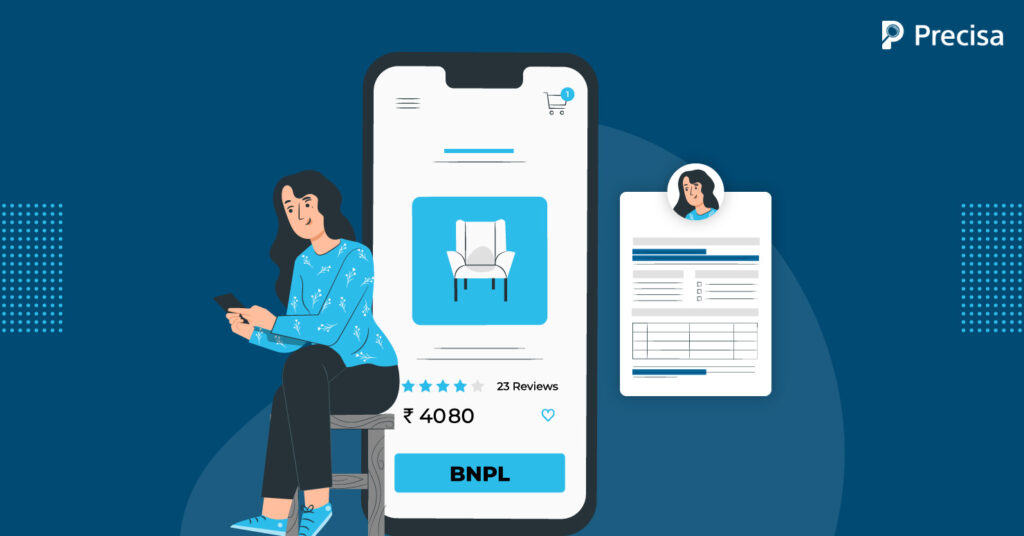 23/04/2022
Covid-19 has ushered in a paradigm shift in India's digital payments landscape, unleashing a slew of new sub-industries, including Buy Now Pay Later (BNPL). In India, consumer and retail business adoptions are at an all-time high, indicating that eCommerce is gaining traction.
Due to improved Internet penetration, increased knowledge of eCommerce, and the introduction of cashless payments, the number of online shoppers has increased dramatically in recent years.
The eCommerce sector is not only offering new product features for consumers, but it is also catering to the financial crunch to meet the increased demand and extend its target base. Consumers' spending capacity is being expanded via cashless credit models, such as the Buy Now Pay Later (BNPL).
But with all those perks come the risks. Providing instant credit through the BNPL model without sufficient verification is an open invitation to fraudsters. To safeguard this loan process, tools like Precisa come to play. Read on to know more about BNPL and how can Precisa help.
What is BNPL?
BNPL is a short-term microcredit concept in which consumers pay little or no interest for transactions made on eCommerce platforms. BNPL businesses are partnering with meal delivery companies, travel booking companies, as well as grocery and other critical delivery platforms, starting with all the eCommerce marketplaces.
This has allowed customers to buy something and pay it off over a period of 14–30 days or in multiple instalments. The success of BNPL in India can be ascribed to the fact that it informally provides official microlending, avoiding the lengthy loan processes used by regular banks.
Why is BNPL on the Rise in India?
Consumers seek financial services that are simple and affordable, yet credit cards are frequently avoided due to high-interest rates, fees, and hidden costs. The BNPL model, on the other hand, functions similarly with low or no interest rates. It finances smaller purchases and lets customers buy necessities now and pay later.
The availability of multiple options also plays a major role. Apart from pureplay BNPL businesses like Simpl, Lazypay, etc., eCommerce marketplaces Flipkart and Amazon India provide their own BNPL products, and Fintech firms like PhonePe (via Flipkart) and Paytm have entered the sector.
Banks are also using BNPL to attract a new group of customers who have previously avoided using credit cards. It simplifies onboarding by minimising documentation in addition to providing a no-cost loan option.
Another key factor driving the expansion of BNPL in India is the country's increasing eCommerce penetration. According to the Deloitte analysis, BNPL is predicted to grab 11.4% of the Indian retail sector by 2026, up from the current 7%.
What is Wrong with BNPL?
Depending on the BNPL model, the financial institution often faces the default risk. BNPL providers typically transfer the funds for the consumer's purchase to the merchant in advance and then collect payments directly from the consumer later. Therefore, the financial institution bears the majority of the risk of fraudulent transactions or defaults rather than the merchant. In fact, because of this business model, banks may end up carrying up to 100% of fraud losses.
The fact that BNPL providers avoid undertaking a formal credit inquiry to reduce consumer friction increases the likelihood of fraud. BNPL is essentially a point-of-sale loan application.
Hence, the lack of extensive credit checks provides a convenient entry point for fraudsters who find inventive ways to take advantage of it.
How Precisa can help BNPL Companies Boost their Consumer Lending
Financial institutions that sell BNPL plans must have a strategy in place to manage their financial and fraud risks. First and foremost, banks must determine their risk appetite for the BNPL offering. They must also be able to differentiate between bad debts and fraud. Finally, they can defend themselves and limit their risks by using fraud prevention technology.
One important way is to review their bank statement and look for patterns in their spending, such as whether they've paid loans on time, their monthly average amount, and so on. BNPL firms can use bank statement analysers to assess their customers' creditworthiness and lend accordingly.
Precisa is an online bank statement analysis tool that is used by organised and unorganised banks, NBFCs, and other lending institutions to process and evaluate the bank statements of potential loan applicants.
What can Precisa do?
Precisa seeks to simplify the bank statement analysis process with an easy-to-use web tool that allows you to upload bank statements and offer actionable insights in a visually appealing, intelligent dashboard.
Here are some features of Precisa that can help BNPL companies:
1. Verification and Analysis
The most important step for bank statement analysis is verification of bank account number, account type, IFSC code, branch, and transaction details. These details are important to primarily verify the account and further analyse credit scores for loan approvals.
Precisa's new feature can automatically detect more than 90% of bank account attributes with more than 80% accuracy. The extraction of account attributes happens within seconds of the bank statement being uploaded on the platform. This then generates a smooth and quick report that is ready for verification and analysis.
2. Real-Time Computation
Precisa generates real-time information that enables banks better understand the borrower's financial health, reducing the risk of non-performing assets (NPAs) or credit default.
3. Save Cost, Time, and Effort
It's less expensive because it doesn't require massive teams to work around the clock to make quick decisions. Thus, reducing the time required for approval too.
4. Make Data-Driven Decisions
Precisa's bank statement analyser provides a holistic picture of the borrower's financial soundness and parses through the massive amount of Excel/PDF/scanned data within seconds to create a cohesive report of his creditworthiness.
This system helps lenders extract data to prepare an analysis to arrive at concrete and calculated decisions while processing the loan. In addition, it can be seamlessly integrated into your existing APIs.
5. Fraud Check!
Precisa's e-statement Authentication can detect a diversity of frauds related to bank statements or altered bank statements at advanced assessment levels. For instance, Precisa's tool is powerful enough to spot meticulous manipulations done using Adobe Acrobat Pro and other similar software!
Precisa is thus a comprehensive AI-powered analytics solution that ensures analysis of bank statements in real-time to check borrower credibility for quick and accurate loan approvals.
If you need more information or a demo, call Precisa now!