14/06/2022
It's a roaring time for Fintech! Financial institutions will no longer rely on spreadsheets and face-to-face meetings. As a result, financial startups and innovators scramble to serve the market needs. The financial industry continues to be shaped by relatively young businesses influencing trends in the industry.
Through a digital-first strategy, Fintech has not only generated new ways to interact with clients and customers but has also become a significant trend among millennials. BNPL, EMIs, digital wallets, and instant payment channels are a hit among the gen Z.
Unlike the traditional operating processes for banks, with fintech, it's no longer a time-consuming, paper-intensive, and limited credit. And technologies like AI and ML are making this industry more accessible and financially inclusive with cutting-edge solutions. So, how exactly is Fintech shaping the future of banks? Let's explore that.
An Innovation of a Kind – Financial Startups!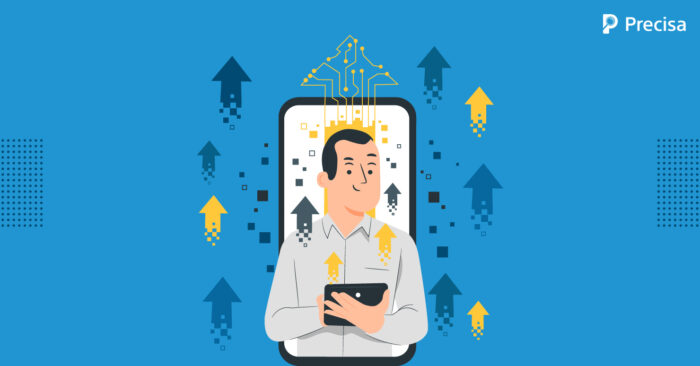 Technology is transforming financial services in a sweeping way, resulting in fintech accumulating a lot of attention. Approximately, on a global scale, US$66 billion (₹5,144,785,800,000.00 (INR) of fintech transaction value is expected to grow to US$138 billion in 2023, with a 20% CAGR. Digital solutions these days are making financial transactions increasingly simple and accessible.
India currently stands with 2100 fintech entities spread across the country. But do you know 67% of them were set only in the last 5 years? Whether buying a new financial product or tool, managing financial services or simply seeking monetary advice, consumers expect convenience, ease and speed. Financial technology plays a crucial role for both businesses and customers alike.
Offering diversified services in one room is what makes fintechs spread like a wildfire. Additionally, the growth of digitisation, smartphone affordability, and a COVID-driven shift toward digital services has made the progress accelerate.
Various financial products and services are already available through some credit marketplaces with access in minutes. In addition, how lenders deploy technology innovations are making things even smoother.
But, what are the trends and fundamental pain points fintech addresses in the banking sector? What is the role fintech plays in shaping the future of banking? Scroll down!
1. Intelligent solutions to age-old problems
Velocious (Adj: rapid; fast) is the word customers associate with today. Waiting is out of the millennial dictionary, and time has become the most prominent asset ever.
Instant bank accounts, credits, insurance services, and remittance transfers – people need services withing a wink worth of time with less paperwork.
Financial startups not only focus on such robust services but also ensure no hiccups are involved in delivering them. For example, Precisa's bank statement analysis tool can make the lending process easier and handier than ever before. With it, know the borrower's creditworthiness in a few minutes.
Premium payments and insurance applications are no longer paper-intensive. With customised Fintech, these procedures are now less complex.
2. No more painful payment services
The dramatic transformation offered by fintech has had its ripples on how transactions and payments operate. Traditional banking services are no longer attractive to people today.
Why is that? Internet banking and smartphones have made it unnecessary for most payments to be made to branches. Cashless payments like UPI or digital wallets are not only a trend but a need of the pandemic rebounding world.
Fintech has proved to provide cost-effective strategies with virtual payments and stir a decent revenue from it. Virtual payments have decreased physical transactions like cash, debit or credit cards, leading to a snappy experience.
Additionally, digital transactions allow for accurate data collection and handling. Also, it enables tailored customer services and personalised products to be offered.
3. Broader outreach
Tailored services and cutting-edge technology are the UPS of any fintech, thereby causing broader reachability. In addition, fintech leverages data analytics to execute complex transformations and operational changes, be it as small as getting a mobile application or as big as changing a legacy system.
Modern banking relies on the latest technologies to upgrade its strategies. Another example, Application Program Interfaces (APIs), is critical for open banking.
4. Good Customer Service = Better Business
With fintech, you can live up to customer satisfaction and empower them digitally. However, when it comes to accurate personal data collection, it also involves securing transactions, data, and privacy, especially in cyberspace. Persistent consumer education and communication are therefore paramount.
Customers can access fintech services 24/7, bringing transparency to communication. Communication includes sharing information via email or text message, alerting customers to changes in banking policies, etc.
This process gives customers a fair understanding of managing and protecting their accounts while keeping them informed.
So, these are the critical areas in which fintech is shaping the future of banking systems. Moreover, with the involvement of big data and blockchain, the transactions are becoming more controlled, eliminating any indulgence of third parties.
Not to forget the aid of ML and AI that is taking the revolution to new heights. As fintech becomes a more mainstream phenomenon, economies should be prepared for a new paradigm shift. Banks and financial institutions must have dynamic knowledge and implementation skills to compete.
But, the change need not be as complex as it may seem in the theoretical explanation. Fintechs like Precisa offer robust technologies and tools to lenders across the industry to make informed lending decisions. Seems interesting? Learn more here!