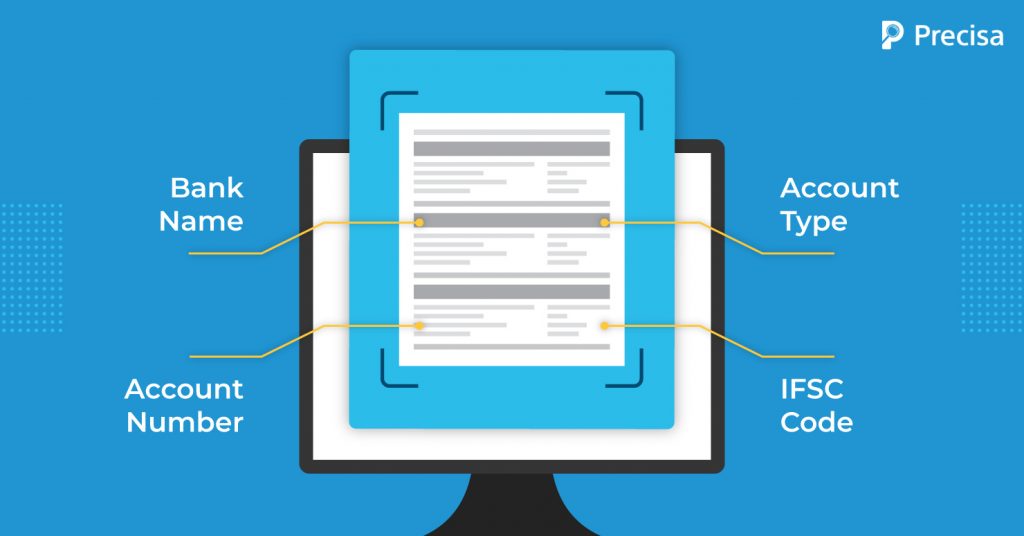 30/07/2021
Precisa's automated bank statement analyser can quickly parse through data, extract vital information, analyse transactions, and aid decision-making. Through its AI-powered engine, Precisa aims to accelerate bank statement analysis with intelligent document processing and data extraction capabilities.
In conjunction with a load of powerful features that scrutinise transactions and present actionable insights to lenders, Precisa has launched a simple yet vital feature – Bank Details Extraction.
The Bank Details Extraction feature fetches and records the basic information – Bank name, Account number, Account type and IFSC code without the need for any manual entry of these details while generating analytical reports.
Key Advantages of Bank Details Extraction
Precisa's all-new bank details extraction feature securely and accurately captures key bank account information. Here are the benefits it delivers for users:
Automate data capture from bank statements for single or multiple accounts
Save time and prevent any errors with intelligent and cognitive extraction capabilities
No manual intervention is necessary to physically enter information while generating reports
Bring down the processing time to less than a few minutes with accuracy
Review the extracted data before downloading the output
Quickly onboard customers, reduce loan turnaround time and provide a better customer experience
How Does it Work?
1. Upload Bank Statements
Upload and select files from your local computer. You can drag and drop files from your local memory. You can upload scanned images or PDF files. Specify the start date and end date if needed.
2. Review and Edit
Once the document is processed, the software will automatically extract information, including the bank name, account number, type, and populate them in their respective fields. In case multiple files are uploaded, bank account details will be extracted from the first file according to the ascending order of name. Users also have the option to update the fields if the details are not extracted or missing.
3. View and Download Report
View or download the output with all the extracted information and analysis without the need of physically entering the bank account details each time.
Precisa's automated bank statement analysis platform can help you get through the data wrangling, data capturing and evaluation process so that you can make safer and faster decisions instead of getting caught up with a manual process that takes days.
Generate actionable insights with 100% accuracy and security to aid critical loan evaluation decisions in no time.
Sign in to your Precisa account, or if you're a new customer, sign up for the 14-day free trial to try out this feature.